Let us help you lower your carbon & greenhouse gas output - and lower your taxes, too.
Save money, save the environment and increase your profitability with our help.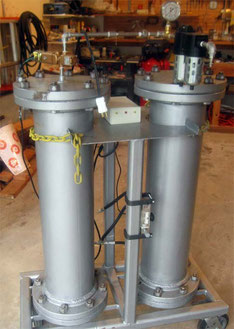 Virtual Prototyping:
The "Try Before You Buy" Solution
The most profitable companies have known for years that a prototype saves more than time - it saves money, too. By providing scaling, modeling, pricing, manufacturing and development data, you can identify costs and areas of improvement that can help you save money and increase your profit margin. Since your prototype can be set as a fixed cost, you can maximize its value - and amortize its cost based on tax savings and profitability. Alternatively, prototyping provides you with the ability to determine if a product or project is feasible - before investing in materials, labor and facilities.
Even more importantly - prototyping doesn't require a physical model - it can be done using software and simulations - and even a physical, 3-dimensional model of your product or project - before you place your first material order or pick up your first screwdriver. 
Green, Renewable, Clean Technology Prototyping Sevices
Custom Development
We offer reasonable, cost-effective engineering solutions. Our award-winning green-tech engineering and engineers provide you with innovative solutions to your engineering problems. We've become specialists in the field of reducing, capturing, sequestering and recycling carbon in everything from concrete to biodiesel.
We're dedicated to helping you and your company save money and increase profit by lowering your carbon footprint - and reducing your operating costs. 
From the moment you contact us - to the delivery of your system - we're there every step of the way providing you with personalized service and non-stop, 24/7/365 support.
Project Support
Once delivered, we can provide you with on-going service and customer support. We provide non-stop customer service for as long as you operate your carbon capture system.
We also provide software support for your system, including guaranteed 100% bug mitigation for the life of the software - whether it's for your Programmable Logic Controller, Human-Machine Interface or web-enabled applications. 
Low Cost Solutions
We're not only dedicated to reducing your carbon footprint - but we're also dedicated to bringing clean, green and renewable technology to the market. 
From simulations to spreadsheets - to 3D models - to physical, fully-functional prototypes, we can provide you with an economical way to reduce your carbon output without having to break open your piggy bank.
Our solutions are designed to bring you the best value for the lowest development costs. We know that one good idea is followed by another - and we know if we give you our best engineering, value and support, you'll look to us first before going anywhere else. 
We save you money by allowing you to see and "feel" how the system will work before it's ever installed. All engineering work is "refundable" and goes towards reducing your installation costs.
With all our dedication to green, clean and renewable energy and technology - there is only one thing that gets even more dedication from us: you.
From a simple drawing on a piece of paper - to full CAD drawings to your specifications...